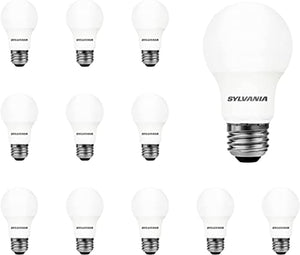 SYLVANIA LED A19 Light Bulb, 100W = 14W, Non-Dimmable, Frosted Finish, 1500 Lumens, 5000K, Daylight - 12 Pack (40205)
Product Description
Brighten your home with the SYLVANIA 14W LED A19 light bulb! This 12 pack of daylight LED lamps are a great replacement for your 100W incandescent lamps. With just 14 watts, they will brighten your house with 1500 lumens of light.
Ideal for use in ceiling lights or floor lamps, the SYLVANIA LED Bulbs illuminate the house and adds dimensions with daylight illumination. Additionally, it will help you save up to 85 percent on your energy costs because it requires less energy and lasts longer than incandescent lamps. In fact, it has a lifespan of 11,000 hours.
Unlike other light bulbs, SYLVANIA LED lights do not overheat. Our LED lights are UV, IR, and mercury free. You can also safely install them in ceiling light fixtures or floor lamps (not for use in fully enclosed fixtures). With these bulbs, you can be sure that what's inside your house is safe to use. Keep your home bright and your electricity bill low with the SYLVANIA 14W LED A19 Bulbs; See the clear difference it makes.
About this item
GREAT VALUE - 12 LED bulbs with 1500 Lumens of light output at only 14 watts. Replace your old incandescent bulbs for a brighter and more energy-friendly home.

LONG-LASTING – These bulbs are a great energy-saving replacement for old incandescent bulbs and have a 11,000 hour lifespan. You won't need to constantly change your light bulbs anymore.

ENERGY-SAVING – These LED light bulbs require less energy and can save you up to 85% on your energy bill. Estimated at only $1.69 a year, replace your old 100W incandescent bulbs and save!

NO WARM-UP TIME – These A19 bulbs have no warm-up time. When you flip the switch, it lights up instantly with a full 1500 lumens of brightness and a stable daylight color.

SAFE FOR HOME USE – These non-toxic bulbs are mercury and lead free. It also produces no harmful ultraviolet or infrared radiation.

DAYLIGHT LED BULBS - Can help make you feel more alert and productive with daylight illumination that is ideal for task lighting. A great choice for home offices, laundry rooms, or kitchens where daylight is desired.

Please note this product does not ship to California.