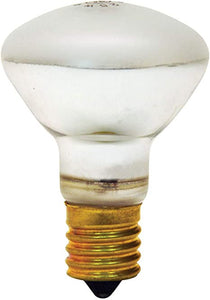 GE Indoor Spotlight Bulb, 40 Watt, Soft White, Medium Base (1 Pack)
Product Description
GE soft white indoor spotlights provide warm, pleasing everyday light without harsh glares and shadows. These bulbs' funnel shape and reflective coating help direct light where it is needed better than a standard incandescent bulb.
From the Manufacturer
GE 25777 40-Watt Soft White Intermediate Base R14. Features and Benefits: Use original GE's Soft White when you need a light without glare and harsh shadows. Replace ordinary light bulbs with GE Flood and Spotlight in all your track and recessed lighting fixtures. Bulb Diameter (DIA) [Nom]: 1.750 in, Bulb Material: Soft glass, Filament: CC-2V, Manufacturing Source: 3372, Maximum Overall Length (MOL): 2.6800 in, Product Technology: Incandescent, Rated Life [Nom]: 1,500-Hours, Voltage [Nom]: 120, Wattage: 40GE incandescent lamps represents the state of the art of lamps for residential and commercial use, as well as special purpose lamps for decorative or display applications. In an incandescent lamp, light is generated by heating the filament to incandescence.
The hotter the filament, the more efficient it is in converting electricity to light. However, when the filament operates hotter, its life is shortened so the design of each lamp is a balance between efficiency and life. This is why lamps of equal wattage may have different lumen ratings and different life ratings. Incandescent lamps of similar size are commonly available with different wattage ratings. The fixture wattage limit should not be exceeded.
About this item
ILLUMINATE YOUR HOME WITH INCANDESCENT LIGHT BULBS: These 40-Watt spot light bulbs cost $4.82 per year in energy to operate and will last 1.4 years, based on 3 hours per day of use.

COMFORTABLE WHITE LIGHT: The flood light bulbs illuminate your home with a cozy, relaxing light. These flood lights are perfect for hard-to-reach sockets that are frequently left on.

SPOT LIGHT BULBS FOR INDOORS: These R14 spot light bulbs provide directional lighting designed for use in recessed ceiling fixtures, tracklights, and polelights.

GE RECESSED LIGHTING DIRECTS LIGHT WHERE NEEDED: These spot light bulbs provide direct, focused light that's ideal for accenting everything from artwork to objects inside curio cabinets.
| | |
| --- | --- |
| Brand | GE Lighting |
| Light Type | Incandescent |
| Special Feature | Energy saver |
| Wattage | 40 watts |
| Bulb Shape Size | R14 |