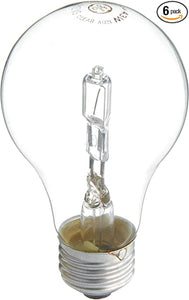 GE Lighting 043168787963 78796 43 Watt Clear A19 Halogen Light Pack of 3 (Each 2 Bulbs), 6 Count (Pack of 1)
Product Description
GE 78796 43-Watt 750-Lumen General Purpose A19 Halogen Light Bulb, Clear, 2-Pack. 750-Lumen output and 43-Watts used, Lumens measure brightness of a light bulb, Watts measure electricity used to create light. Saves Energy - has similar Lumens(light output) as a standard 60-watt but only uses 43-watts.
This Halogen bulb has an A19-Shape and rated life of 1000-Hours. Lumen is the new Watt - Better technology provides the same amount of Brightness(lumens) while using less Electricity(watts). This Clear Halogen bulb is fully dimmable and instantly bright and overall uses 28% less energy than a regular bulb. Halogen lamps provide a small, white light source with excellent color rendering.
Unlike standard incandescent lamps, halogen lamps use a halogen gas which allows the bulbs to burn longer without sacrificing light output. Compared to incandescent lamps, halogen lamps provide crisp white light, excellent beam control, compact size, high lumen maintenance, and a longer life.
To save energy costs, find the bulbs with the light output(lumens) you need, then choose the one with lowest watts
Includes 6 GE Lighting Energy-Efficient Crystal Clear Light bulbs

60-watt replacement uses only 43-watts

A19 shape with medium base for use in table lamps and enclosed fixtures

750 lumens providing comfortable, inviting light

Lasts 0.9 years based on 3 hours per day usage